Image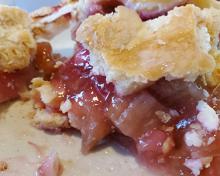 Due to our 100th Celebration Countdown occupying Page 4 in our customer newsletter, we've added this "Recipes of the Season" page. We hope that you enjoy it!
LEFTOVER HOT SAMMY
INGREDIENTS
Thanksgiving leftovers
Milk
Butter
Melt two tablespoons butter in a skillet over medium high heat. Place leftover stuffing in after butter is melted. Stir well and as needed. Preheat a second skillet over medium heat to prepare cut/shredded leftover turkey and gravy. Mix both until bubbly. Stir as needed until thickened, add pepper.
Warm up mashed potatoes on stove or microwave, add milk if needed.
Place a bread slice on dinner plate or slice yesterday's dinner rolls. Use an ice cream scoop to place a mound of potatoes on the bread. Follow with stuffing, then generously top with turkey and gravy mixture. Best served with leftover cranberry salad on the side. Sprinkle the plates with chopped parsley or chives, and serve. Enjoy your Hot Sammy!
---
SWEET TATOR CASSEROLE
INGREDIENTS
4 large sweet potatoes, cleaned
1/2 stick unsalted butter, in pieces, softened
1/2 cup sugar
1/3 cup light cream or milk
2 large eggs, at room temperature
1 teas. vanilla extract
1/2 teas. salt
1/4 teas. allspice
TOPPING INGREDIENTS
2/3 cup packed light-brown sugar
1/4 cup all-purpose flour
1/4 teas. cinnamon
1/4 teas. salt
1/2 stick unsalted butter, melted
2/3 cup pecan halves
Preheat the oven to 350°F. Butter a 2-quart casserole dish. Line a baking sheet with aluminum foil. Pierce each sweet potato several times with a paring knife or fork and place on the baking sheet. Bake for 60 to 70 minutes, or until soft and tender when pierced with a paring knife. Transfer the baking sheet to a cooling rack. Cut a slit in the potatoes lengthwise and cool for 15 to 20 minutes.
Scoop the sweet potato flesh into a large bowl and mash it with a potato masher or fork. Add the butter, sugar, and cream and, using an electric mixer on medium-high speed, beat to blend. Add the eggs, one at a time, and beat to combine. Add the vanilla, salt, and allspice and beat until evenly mixed. Spread the mixture in the casserole dish.
Make the topping: Combine the brown sugar, flour, cinnamon, salt & butter in a food processor and pulse briefly. Add the pecans and spread the topping evenly over the sweet potato mixture. Bake for 45 minutes at 350°F, or until the ingredients are puffed slightly and the topping is a rich light brown. Transfer to a cooling rack for 20 minutes before serving.
Makes 8 servings - perfect for your socially-distanced holiday. Happy Thanksgiving!
---
CARAMEL CORN
INGREDIENTS
Cooking Spray
4 quarts popped popcorn
1 cup brown sugar
1/2 cup Karo Light or Dark corn syrup
1/2 cup butter
1/2 teas. salt
1/2 teas. baking soda
1 teas. vanilla extract
Spray large shallow roasting pan with cooking spray; Add popcorn and place in 250 degrees oven while preparing caramel. Mix brown sugar, corn syrup, butter and salt in a heavy 2-quart saucepan. Stir constantly and bring to a boil over medium heat. Boil 5 minutes without stirring. Remove from heat. Stir in baking soda and vanilla, and mix well. Pour over warm popcorn and stir to coated evenly. Bake for 45 minutes, stirring often. Remove from oven and spread on foil that has been sprayed with cooking spray. Cool, then break apart. Store in tightly covered container. Happy Fall!
---
QUICK NO-YEAST ROLLS
INGREDIENTS
1 cup flour
1 teaspoon baking powder
1 teaspoon salt
1/2 cup milk
2 tablespoons mayo
Combine all ingredients, spoon in to a greased muffin pan and bake in preheated 180-degree oven for 15 minutes or until golden brown. Makes about 5 fresh rolls.
---
QUICK PITCH-IN SAUSAGE DIP
INGREDIENTS
1 pound COOKED breakfast sausage (hot flavor is also good!)
1 package cream cheese
1 can (8 ounce) tomatoes with green chilies (drained)
In a large skillet over medium heat, cook & chop the sausage until browned evenly. Remove from the skillet. Put the cream cheese into a 1½-quart slow cooker. Add the sausage and diced tomatoes with chilies. Cover (no stirring necessary) and cook on low for 90 minutes. Mix well before serving, alongside tortilla chips. Enjoy!
---
BROCCOLI SOUP
INGREDIENTS
2 cups water
4 cups chopped fresh broccoli (about 1-1/2 pounds)
1 cup chopped carrots
1 rib chopped celery
1/2-1 cup minced onion
6 tablespoons butter
6 tablespoons flour
3 cups chicken broth
2 cups milk
1 tablespoon minced fresh parsley (or 1 teaspoon dried)
1 teaspoon salt
1/2 teaspoon of dried basil
1/4 teaspoon dried thyme
3 to 4 sage leaves, chopped (or 1/4 tsp dried sage)
croutons, for garnish
In Dutch oven or soup kettle, bring water to boil. Add broccoli, carrots, and celery; boil 2 to 3 minutes. Drain; set vegetables aside. In the same kettle, sauté minced onion in butter on low flame until soft and tender, stirring periodically, then add the flour, whisking continuously for about 4 minutes to form a smooth paste. (Whisking avoids burning.) Keep on low heat.
Gradually add the broth and milk, whisking constantly so it all blends. Bring to boil; boil and stir 1 minute. Add vegetables (broccoli, carrots, celery.) Stir in parsley, salt and thyme. Reduce heat; cover and simmer for 30 to 40 minutes until vegetables are tender and flavors are combined. Add chopped thyme, sage and basil. (If using dry herbs, add about ½ tsp of basil and a ¼ tsp each of thyme and sage.) If not serving immediately, switch off the stove and keep the soup covered. Ladle soup into bowls and garnish with croutons if desired.