Image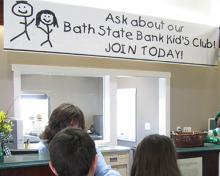 Bath State Bank Kids Club is designed to help young children understand the importance of saving money. We hope that children have fun learning about money and the importance of savings along the way.
Our Club is designed for children age 15 and younger. Members receive a BSB Kids Club membership I.D. card, a special birthday card with an uncirculated coin, as well as our semi-annual Kids Club newsletter. Savings is fun, and it all starts at Bath State Bank!
A deposit of $5 is required to open this account, and a $5 minimum balance is required to maintain the account. The interest rate and annual percentage yield are disclosed on the BSB Interest Rate Chart. All other regulations follow Bath State Bank Passbook Savings.
Please Note: When opening an account, the minor needs to bring a Social Security card. In addition, the adult on the account will need an I.D. card (driver's license) and another form of ID. Please feel free to call us prior to coming to make sure that you have the correct forms of I.D.
---
Kids Club Newsletter
Your 2023 Spring/Summer edition of your Kids Club newsletter will arrive in early April and feature topics about The U.S. Mint's newest quarter, Mint marks, money jokes and facts. In addition, with the anticipated celebration of Bath State Bank's 100th anniversary, children have the opportunity to design a coin commemorating Bath State Bank's centennial. Those children needing an additional BSB Coin Design Form can download it here.
For Parents: Included in the Kids Club newsletter are healthy money attitudes for your children to learn in respective age categories. Just some fun tips to help your child learn about the value of money and the importance of saving for the future.
 
---
Ideas for Kids
Visit our Ideas for Kids link for other fun activities.
---
Children's Online Privacy Protection Act Disclosure: The "Bath State Bank Kids Club Zone" web site pages are presented solely to educate and entertain children. The content of this site is not intended to be relied upon by adults for any purpose except to support the educational and entertainment activities of children. This site contains links to other web sites, in order to assist users in locating and accessing information that may be of interest. Bath State Bank does not warrant linked sites for any purpose. Further, the inclusion of a link to another site does not constitute an endorsement by Bath State Bank of the site, its owner(s) or any products or services advertised on the linked site.
Educational/Fun Center