Image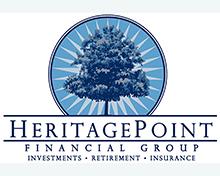 HeritagePoint Financial Group 
HeritagePoint Financial Group is an insurance and financial services agency that utilizes a distinct macro-economic process with its clients. This nontraditional approach helps HeritagePoint Financial Group clients understand financial concepts and dynamics, which then forms the foundation for a personalized road map that helps balance growth potential with the reduction of risk for their future.
HeritagePoint Financial Group offers a wide variety of financial products and services to provide these economic strategies for its clients, who include individuals, families and business owners.
As a general agency with the companies of OneAmerica, HeritagePoint Financial Group is proud of its reputation for helping clients create possibilities in their lives. The experienced and knowledgeable professionals provide a "hands on" approach to financial guidance.
HeritagePoint Financial Group can help you keep focused on where you want to go, guide you on how you can get there, and continually remind you of the importance of maintaining a disciplined approach to realizing your goals.
Services:  HeritagePoint Financial Group was founded with the goal of assisting its clients in every aspect of their financial lives. HeritagePoint Financial Group staff consists of experienced professionals with a "hands on" approach to financial guidance. The company is based on the principle that education and understanding of your current financial situation is vital to successfully make prudent decisions.
Individual Financial Strategies:  Money might not be the most important thing in life, but feeling secure with your finances goes a long way towards taking some worries off your plate. We want to be the people who see you get there, which is why we offer up a whole host of custom financial services designed to help you reach whatever goals you're aiming for, from investing to education and everything in between.
Retirement Strategies:  After a lifetime of work, retirement should be all about relaxing — but that's only possible if you plan ahead. However, even if you didn't, HeritagePoint Financial Group can help you work through the process all the same. From setting up financial goals to preparing for potential care costs, HeritagePoint Financial Group can work with you to start you down the path towards the retirement you've earned.
Business Strategies:  Every business owner knows that employee benefits play a key role in keeping a business afloat. We've got the resources and strategies to keep your company firmly on the right track. Whether you're looking at ways to reward faithful employees, or just want to protect your assets from economic loss, you can count on HeritagePoint Financial Group to guide you through the process.
Contact one of its two managing partners Isaac Shepherd* or Wes Koch*. Please visit http://www.HeritagePointFG.com.
---
HeritagePoint Financial Group - Eaton Office
  101 North Barron Street
  Eaton, Ohio  45320
      Phone: 937-336-5065
Heritage Point Financial Group - Winchester Office
  214 South Main Street
  Winchester, IN 47394
      Phone: 765-305-1923
      Fax: 765-305-1124
      Cell: 765-212-4243
Meetings are by appointment at any location convenient to you which includes Bath State Bank locations. Contact Isaac Shepherd or Wes Koch today to schedule your appointment.
---
*Securities offered through OneAmerica Securities, Inc., a Registered Investment Advisor, Member FINRA/SIPC.HeritagePoint Financial Group is not an affiliate of OneAmerica Securities or the companies of OneAmerica and is not a broker dealer or Registered Investment Advisor.
Provided content is for overview and informational purposes only and is not intended and should not be relied upon as individualized tax, legal, fiduciary, or investment advice.
Investing involves risk which includes potential loss of principal.
Bath State Bank is not an affiliate of OneAmerica Securities and is not an OneAmerica company.
INSURANCE AND INVESTMENT PRODUCTS: NOT A DEPOSIT.  NOT FDIC/NCUA INSURED. NOT INSURED BY ANY FEDERAL GOVERNMENT AGENCY. NOT GUARANTEED BY ANY BANK OR CREDIT UNION. MAY LOSE VALUE.