Image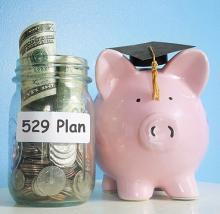 Are you trying to figure out how to balance your retirement while saving money for a child to go to college? The cost of any type of trade school or college education has skyrocketed over the past 25 years. A 529 education savings plan can help you save more, be better prepared, and set your child or grandchild up for success.
HeritagePoint Financial Group is an insurance and financial services agency in partnership with Bath State Bank. HeritagePoint Financial Group helps clients understand financial concepts and dynamics, which then forms the foundation for a personalized road map that helps balance growth potential with the reduction of risk for their future.
HeritagePoint Financial Group offers a wide variety of financial products and services to provide these economic strategies which includes 529 education savings plans.
For more information, visit the "Investment Services" tab on our web site or contact Wes Koch* and Isaac Shepherd* at 937-336-5065. Although their offices are located in Eaton and Winchester, they can meet you at the Bank or at a location of your choice.
*Securities offered through OneAmerica Securities, Inc., a Registered Investment Advisor, Member FINRA, and SIPC.  HeritagePoint Financial Group is not an affiliate of OneAmerica Securities and is not a broker dealer or Registered Investment Advisor. Investing involves risk which includes potential loss of principal.
Bath State Bank is not an affiliate of OneAmerica Securities and is not an OneAmerica company.
INSURANCE AND INVESTMENT PRODUCTS: NOT A DEPOSIT. NOT FDIC/NCUA INSURED.  NOT INSURED BY ANY FEDERAL GOVERNMENT AGENCY.  NOT GUARANTEED BY ANY BANK OR CREDIT UNION.  MAY LOSE VALUE