Image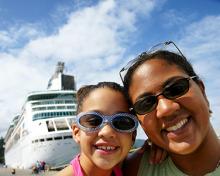 Before you head out for a vacation, take steps to help keep your dream vacation from becoming a nightmare. Do some research — and then carefully read the details on travel offers.
Obtain recommendations from family and friends on good travel agencies, vacation rentals, hotels and travel packages — before responding to offers.

Look up travel companies, hotels, rentals and agents with the words "scam," "review" or "complaint."

Look for extra costs. Resort fees (also known as destination, facility and amenity fees) can add to your nightly cost.

Ask about taxes, which may be significant.

Get a copy of the cancellation and refund policies before you pay.

If you're buying travel insurance, be sure the agency is licensed.

Bring copies of any confirmation details that show the rate and amenities you were promised. This also helps if the hotel or host says your reservation is "lost."

Don't pay for "prize" vacations. No legitimate company will ask you to pay for a prize. Look for catches to resort or timeshare offers. They may come with taxes and fees to pay or timeshare presentations to attend.

Use a credit card, if possible, for your travel spending. This gives you more protection than paying by cash or debit card — and it may be easier to dispute unauthorized charges.

Protect your identity and account information while you're traveling. Take only the IDs, credit cards and debit cards you need. Make copies so, if someone steals your bag, you'll know what was lost.

Learn how to protect your mobile devices and personal information from hackers and malware. 

Don't use free Wifi.