Image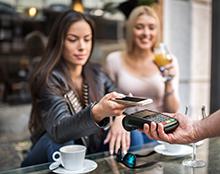 Tap to Pay, then be On Your Way! Bath State Bank offers Digital Wallet. Make contactless payments safely and securely with BSB's Digital Wallet.
Bath State Bank is live with Apple Pay® and Samsung Pay®. No matter how you choose to shop, your Digital Wallet makes it even easier to pay with your Bath State Bank debit card.
Digital wallets use a one-time-use number each time you shop to help keep your information private. Your payment information is never shared with merchants or stored on your device. 
Make purchases in-store or through an app by adding your Bath State Bank debit card to your mobile wallet. Pay with a simple tap, click or touch. More secure than handing your card to a merchant.
What Can You Do With Digital Wallets?
Provide quick, easy and secure payment when checking out at participating merchants.

Make purchases online and in apps through participating merchants.
Where Can I Use My Digital Wallet?
Look for the Contactless Payment and Visa Symbols on the merchant's credit card terminal.
Get Started
You can easily access your Mobile Wallet from the app on your phone.

Download the Mobile Wallet app from the app store on your device or it may already be built into your phone.

Add your Bath State Bank debit card information into the wallet by following the steps provided in the app.

Activate your device by confirming registration.

Once activated, you'll have access to pay at participating merchants, in apps and online through your mobile device!
Image

Apple Pay® is a mobile payment and digital wallet service that lets you make payments using qualifying Apple® products (iPhone®, iPad®, Apple Watch®, etc.) Apple Pay allows users to make secure purchases in stores, in apps and online. Currently, Apple Pay is the only digital wallet using a secure element (SE) for tokenization storage, which is a chip embedded directly into the phone's hardware. 
Image
Samsung Pay® is a mobile payment and digital wallet service offered by Samsung. Samsung Pay uses NFC and magnetic secure transmission (MST) for payments. MST is a huge convenience for cardholders. It works by sending a magnetic signal from a compatible device to the payment terminal's card reader (to imitate swiping a physical payment card.) 
---
Reduce fraud
Your actual card number is not stored in your digital wallet and is never used when you make a purchase

A separate token account number is assigned when you load your credentials to the wallet

Transaction information is encrypted for secure shopping

Payment codes are unique to every transaction, so they can't be reused by a fraudster for another purchase

Your digital wallet is protected by your mobile device's security settings, so only you can unlock it with your biometrics and passcodes
Save time
Most purchases take just seconds to complete

Just hold your mobile device over the payment terminal that accepts digital payments at the store — checkout is a breeze

Pay in an instant when you shop online — simply choose your Bath State Bank cards from your digital wallet

You can also make quick in-app purchases with your digital wallet

Your digital wallet pulls in your credentials automatically — so you don't have to look for your card or type in your information
Make contactless payments
You can make a safe, touch-free transaction with your cards

There's no need to present a physical card when you're shopping in person — just carry your phone

Simply hold your mobile device over the payment terminal and you're done