Image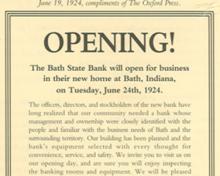 For 96 years, Bath State Bank's philosophy on customer service and small-town approach has remained constant. Our Bank is a friendly place to address all of your business needs — whether agricultural, personal, business or pleasure. We continue to be a leader in deposit and loan growth. All decisions are made in the Bath State Bank — not forwarded to a parent company. Not many operations can make that claim today. Our helpful customer service and tailored financial programs have helped us attract our customers.
We opened our doors for business on June 24, 1924. At that that time, 250 shares of stock were issued to 65 original shareholders, W.S. (Scott) DuBois served as our first president and Cecil Whiteman served as the first cashier. Today, we are still independently owned.
Our Bank was one of the very few banks that remained open for business during the Great Depression. By the 1950s, we had acquired more than $1,000,000 in assets. Today, we have helped build homes for countless families, helped harvest millions of acres, helped provide educations and cars for young people and catered to numerous financial requests. Perhaps because we are a local operation is the reason that we are so closely tied with the community.
As a result of customer demand, Bath State Bank opened its first-ever branch, located in West College Corner, Indiana, on U.S. 27. This facility, which opened in Fall 2008, has a drive-up ATM and night deposit, two drive-thru lanes and several lock boxes. In addition, a second branch opened this year in Liberty. As well, this location is full-service, offering all of the same amenities. Even though we are growing in many directions, the focus has remained constant as you can always expect the personalized customer service that has been served since our founding.
We continue to lead in philanthropic endeavors and supports area community groups. Also, our staff dedicates time and talent to many area organizations such as junior achievement and extension service.
At Bath State Bank, our customers are important, and this is why your independent bank continues to be strong and grow in assets and capital. That is why we are The Bank by the Side of the Road that is Always a Friend!