Image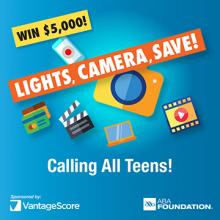 Bath State Bank is NOW accepting submissions for its Lights, Camera, Save! video contest.  The contest, organized by the American Bankers Association Foundation and sponsored by VantageScore, is a national competition that encourages teens to use video to communicate the value of sound money management and set their peers on a sound financial path.
Lights, Camera, Save! gives area students an opportunity to harness their creativity, learn about using money wisely and communicate those lessons with their peers. A strong financial education is critical to a successful future and we are thrilled to participate in a contest that reinforces that message.
To participate, students (ages 13-18) must create a video, 30-seconds or less, on using money wisely and submit a link to the video along with a completed entry form to Bath State Bank by March 1. The contest is open to students aged 13-18.
Bath State Bank will host the first round of judging and select a winner to compete on the national level for several cash prizes, including $5,000 for first place, $2,000 for second place and $1,000 for the third and fourth place. LOCAL LEVEL PRIZES are $100 for 1st place and $50 for second place.
A few years ago, Bath State Bank had an entry from Franklin County High School that placed second in the nation and won $2,500! The year prior, a Union County High School student's video placed in the top-10 nationally, and was No. 1 in Indiana! You can do it, students!
Videos will be judged on their quality, message, content and the criteria set forth by the contest's official rules. Entry form and rules are listed below:
To learn more about Lights, Camera, Save!, visit lightscamerasave.com. Check out previous winning videos at ABA's YouTube channel.