Real Estate/Home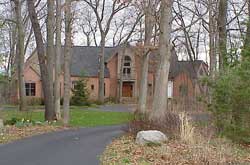 We understand that every person who walks through our door has a unique situation. We don't have one cookie-cutter pattern or online loan form for our customers. Instead, our experienced loan officers take the time to evaluate your needs to create the best-possible mortgage product for you. We realize that it can be confusing to fully understand each program; this is why our loan officers will explain your options after reviewing your situation. (Various programs listed below.)
Not only is our service personalized . . . we have competitive rates too! Our custom-tailored financial programs have helped us attract customers from numerous neighboring counties. As you can see, we are a highly-recommended just not only in mortgages, but also in business and personal banking needs. We take pride in our service!
We do business the old fashioned way — by name and in person. Feel free to call us to set up an appointment, or simply stop by the Bank. It's a casual, relaxed atmosphere in Bath. Make us your source for all of your credit and mortgage products. For your convenience, you may download our BSB Mortgage Loan Application Package 2020 or Home Equity Line Of Credit packet. Also, if you would like disclosures emailed to you, please download our BSB Electronic Delivery Consent Notice and Agreement sheet.
For more information, please call us in West College Corner at 765-732-3147 or in Bath at 765-732-3022. Toll free at 800-463-7464.
Bath State Bank is dedicated to building genuine relationships with its customers and community by caring for them like family. Talk to our experienced loan officers today to see what we can do for you!
Various products include:
Conventional Mortgage
Typical residential property for the area
Rental properties are also included
Unique agreement and customized programs
Second mortgages; Refinancing welcomed
Offering a wide variety of competitively-priced 10-, 15- and 20-year fixed interest rates
Adjustable rates are available from 1-, 3- and 5-year with up to 30 year maturities
80% loan-to-value to purchase property (pending usage of loan)
Freddie Mac
Typical residential property of 5 acres or less
Up to 95% loan-to-value (pending usage of loan)
No minimum loan size; Maximum loan amount is $484,350
As little as 5% down; Refinancing's welcomed
Offering a wide variety of competitively-priced 15-, 20- and 30-year fixed interest rates/Adjustable available
Unique agreement and customized programs
We also have escrow services available for your needs! With an escrow account the cost of real estate taxes, homeowner's insurance and similar items is automatically included in your monthly mortgage payment. When taxes, insurance premiums and other expenses are due, we'll pay them on your behalf. It helps with household budgeting, eliminates the possibility of forgetting to make important payments.